Franchising Opportunity
Would you like a great business opportunity that allows you to become actively involved in your local community AND at the same time earn a great income?
Since early 2001 Your Online Community (YOC) has been revolutionising community portals by creating a range of unique online services that benefits both the local communities they serve and YOC franchisees.
For their work in this field, Empower Australia, the forerunner to YOC, won the Prime Minister's Award for Excellence in Community Business Partnerships – NSW Small Business, 2004.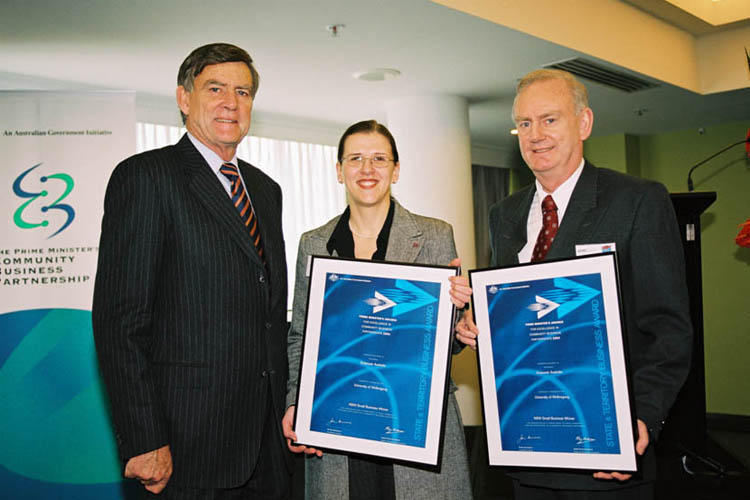 From left: Senator Heffernan, on behalf of the Prime Minister; Dr Lejla Varazalic (University of Wollongong); and Andrew Connery (Founder and MD of Your Online Community Pty Ltd) at the presentation ceremony, Brisbane, Queensland.
Links:
http://www.facs.gov.au/internet/minister1.nsf/content/pmawards2004_nsw.htm
http://www.abc.net.au/news/australia/nsw/illawarra/200407/s1160101.htm
Currently, YOC have patents pending in both Australia and the USA for SOLD (Search Optimizing Local Directory) Technology, which is used on all SMARTPAGES websites. SOLD Technology dramatically improves the quality of local search on the Internet – this is YOC's 'unique selling proposition' for franchise area advertisers. We are more than happy to talk to you about this world-leading technology in more detail if you are interested in becoming a franchisee.
What is SMARTPAGES?
SMARTPAGES is a business directory that makes it extremely easy for locals to find businesses in their own community either directly through SMARTPAGES.com.au or by searching on the web.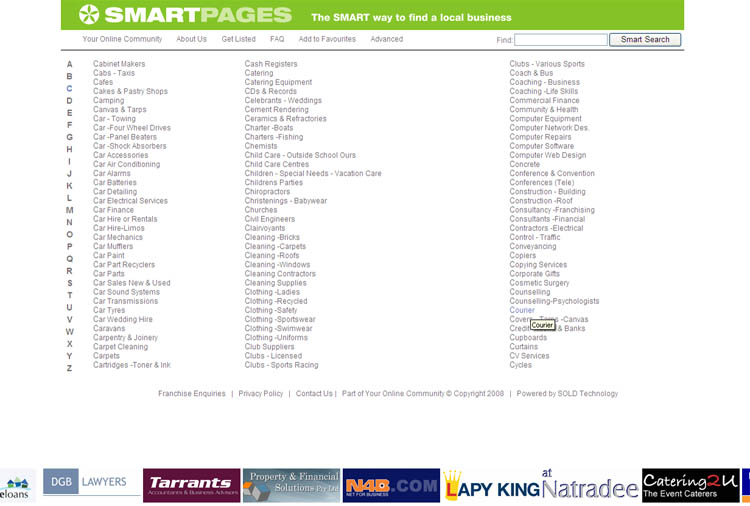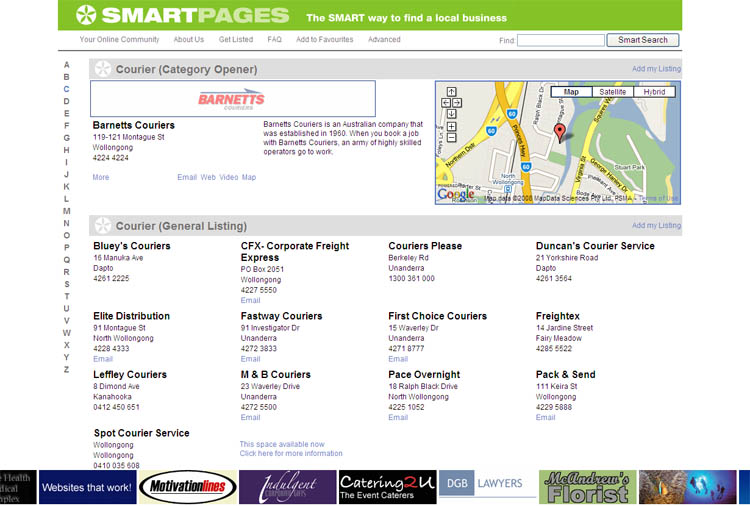 What is my role as a franchisee?
Your Online Community publish the weekly e-magazine for your area, working closely with a local journalist and you to produce news, profiles and views that are relevant to your local community, so that you are free to sell sponsored listings and category openers on your SMARTPAGES business directory.
Is it for me?
To give you a good idea of what we're looking for, our successful franchisees have the following characteristics:
• They are energetic with a strong desire to succeed;
• They're not afraid of hard work – you have to put a lot of effort in at the beginning to build your business;
• They take responsibility for their own results. We can provide you with the opportunity but the level of success you achieve will be down to you;
• They love meeting new people and tend to be very 'social' individuals. They are great at building rapport with people;
• They are well organised and able to manage their time effectively to get the most out of their business AND their family time.
You don't need to have a track record in sales to be successful and you definitely don't need advance technical skills (as long as you're comfortable using e-mail and surfing the Internet you'll be OK).
Will I fit into the YOC team?
All YOC team members are very professional and take their work seriously, but they also like to see the funny side of things. To get an idea of what we're like click here for a video link for a sample.
Key features of becoming a franchisee include:
• Benefit from using our patent pending SOLD Technology
• Your area of choice (if still available) - Parramatta available commencing February 2009
• A five year contract – with free renewal*
• An opportunity to create an income from businesses wanting to advertise on your SMARTPAGES site
• An opportunity to be your own boss with flexible working hours and to be actively involved in your local community
* Terms and conditions apply
What's the difference between setting up your own business and buying a SMARTPAGES franchise?
• You will be buying a ready-made business with training and support already in place
• It's less risky than setting up your own business.
• There is existing brand awareness
• All of the setup costs, time and technology are in place
• Home based work
• Good, long term prospects
• Support from an expert head office team
What equipment will I need to start?
The basic equipment that you will need is:
• PC with Windows XP or Vista operating system and Internet Explorer 7
• Broadband connection;
• Mobile phone;
• Fax machine;
• A car – one that you're happy to stick a transfer on the back of, advertising SMARTPAGES.
What happens next?
If you'd like more information regarding becoming a franchisee, please do not hesitate to ring us on (02) 9516 2000, or email Andrew Connery at andrewc@youronlinecommunity.com.au.